May 24, 2020 - Recipes
Vegan Pineapple Banana "Naked" Juice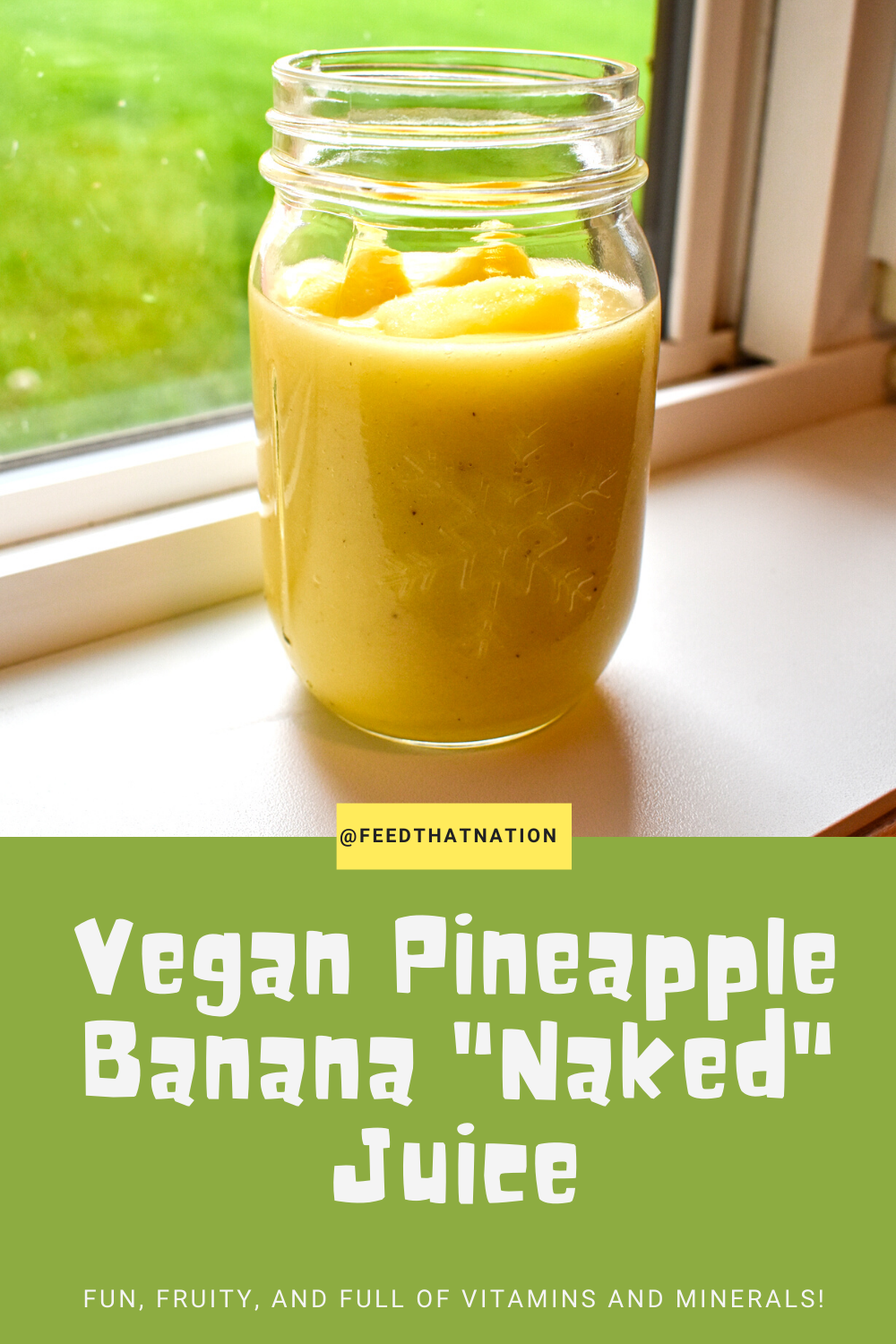 Vegan Pineapple Banana "Naked" Juice
Hello! Welcome to Feed That Nation!
My name is Natalie Nation. I am a grad student, future RD, educator, content creator, and mac and cheese expert. I love talking about college and health issues to help college students to be more successful, confident, and healthy!
Go follow me on INSTAGRAM and subscribe to my YOUTUBE channel!
In today's recipe, I'm showing you how to make my Vegan Pineapple Banana "Naked" Juice.
The Backstory
I have a slight obsession with smoothies and I'm happy to share my love of them with you!
I've been making this Vegan Pineapple Banana "Naked" Juice all the time lately! It's fresh, its fun, and chock-ful of vitamins and minerals!
My secret ingredient is coconut water! It's full of electrolytes and even the unsweetened versions have electrolytes. Some athletes swear by coconut water for hydration during exercise, but I just buy it every once in a while, for fun!
Coconut water is a fun alternative to using milk in my smoothies when I just want something light and refreshing (like this recipe!)
The reason I'm calling this recipe a "Naked" juice is because it reminds me a lot of the Naked brand juices you can buy from the store.
You know the ones I'm talking about: the $5 refrigerated bottles of thick juice smoothies that somehow contain 27 servings of fruit?
*insert rolling eyes emoji
Nobody needs THAT much fruit. And TBH, most Naked-style juice smoothies I buy, I do not finish. They are HUGE and I just get full (or it gets warm and gross…)
That's why I prefer making my own at home! My version has 2 servings of fruit, plenty of vitamins and electrolytes, and is the perfect serving size for one!
The recipe!
INGREDIENTS
(1 SERVING, ~12 FL OZ)
1 cup of fresh or frozen pineapple chunks
1 banana, fresh or frozen
1/2 cup (or so) of unsweetened coconut water
5-7 ice cubes, if not using any frozen ingredients
INSTRUCTIONS
Place all ingredients into your blender. I always place my frozen ingredients furthest away from the blender blade, and my fresh (soft) ingredients closest to the blade.
Blend all ingredients until smooth. I tend to blend pineapples longer than I would other fruits, just to be sure they get REALLY smooth. Drink immediately.
Enjoy your juice with a protein snack after a hard workout, alongside a balanced breakfast like this one that I showed off on my Instagram story not too long ago!